We all know to wash our hands, practice social distancing, and try to avoid consuming media hype like the gospel. This newsletter is not about that.

I am not looking to build my brand on the back of a pandemic, just hoping to add value for readers whether or not they are looking to transact this year.

Let's start with some salient advice from the Wu: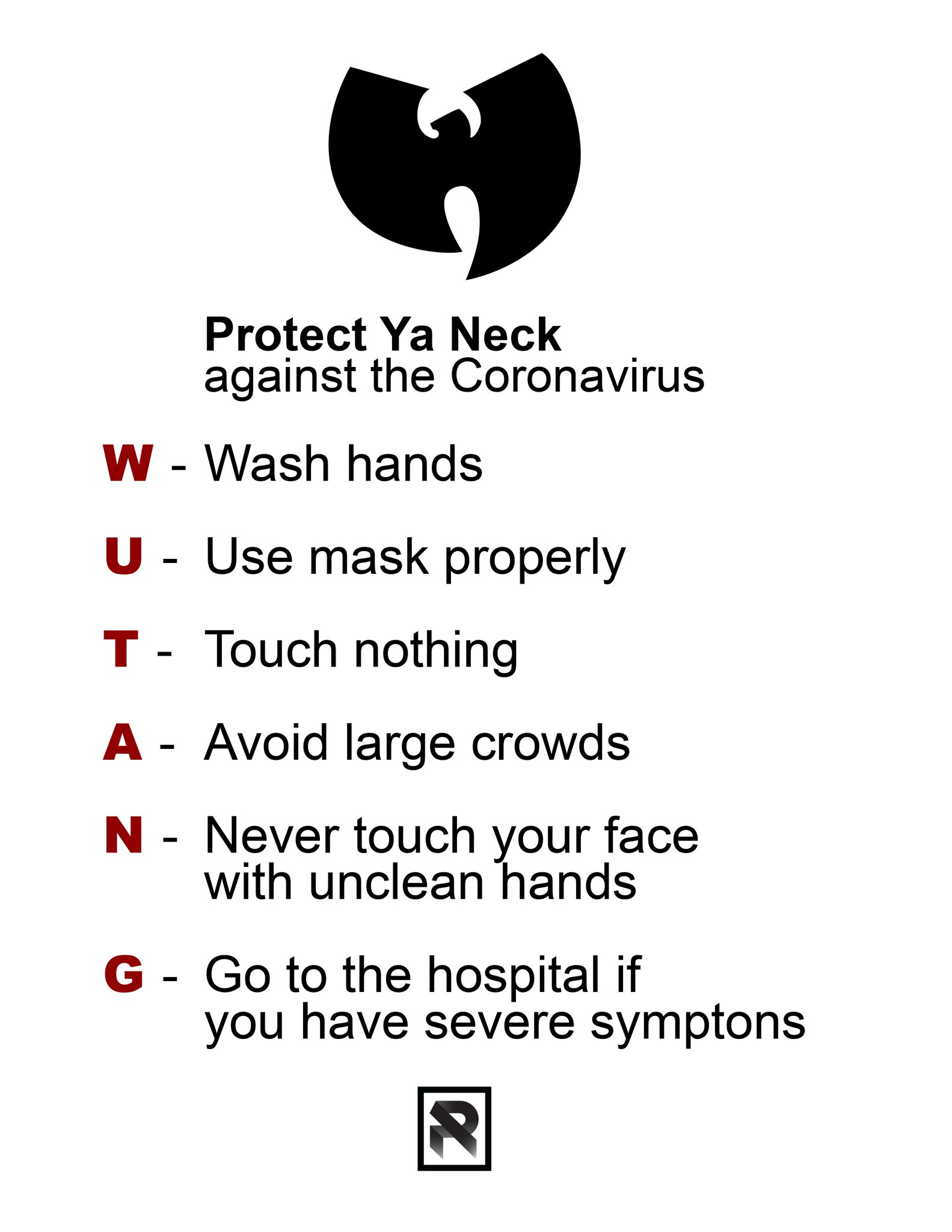 Pls click for links to articles:
1.
Evictions Halted
:
Eviction notices may be served, but courts will not process evictions. This does not mean withhold rent, but it could mean use your rent to pay for necessities if cash flow is an issue due to functional unemployment. Again, everything is hot off of the presses, so there is no full prescription of post pandemic endgame, so proceed with caution.
In the short term, I believe the goal is not to support actions that could lead to homelessness, and to prioritize self care over rental payments. This is not advice, this is my personal interpretation of reportage.

2. Sick Leave:
For those of you who cannot work from home, and are currently forced to choose between foregoing a paycheck or commuting to work, a bill was drafted last Saturday.
If the bill is approved by the Senate and signed by Trump, it would grant two weeks of paid sick leave at 100 percent of the person's normal salary, up to $511 per day. It would also provide up to 12 weeks of paid family and medical leave at 67 percent of the person's normal pay, up to $200 per day.
This does not apply to everybody, but should provide breathing room for some.
3.
Working from Home with Kids.
We've opted to keep our daughter in daycare at least through the end of the week. The school is probably at 10% of normal attendance. We consulted with her teacher to see what her preference was and are comfortable with our decision.
With that being said, what follows is not necessarily what I am currently practicing, but likely what I will be doing as of next week.
Click links for articles.
1. Create a schedule
2. Communicate, even more than you think is necessary
3. Set boundaries with your children
4. Take breaks
5. Alternate shifts with your partner
8 Tips To Make Working From Home Work For You (NPR)
1. Get your technology in order.
(also consider for elderly/at-risk family if you can't visit parents/grandparents)
2. Make sure you have bandwidth.
3. The kids are alright — but they're home too.
4.
Manage expectations.
5. Know thyself (and thy WFH weaknesses).
6. Embrace the webcam.
7. Stay connected.
8. Do what you can; discuss when you can't.
Coronavirus And Parenting: What You Need To Know Now (Deep Dive from NPR)
The remainder of this newsletter will consist of real estate related advice if you are currently in the market, and some general comments gleaned from our CEO's agent directed podcast yesterday.
Wash your hands, make the best of "quarantine" time with your families, and protect your energy, while discoveries are being made and policies are being adjusted, media is still in the business of selling advertising, so fact check, whenever possible.

Open houses will become largely virtual, whether live stream or a pre-recorded video tour of a property. Agents at my company were directed to clean all surfaces with disinfectant wipes, but this may not be maintained as sufficient or even acceptable for occupied properties.

Cycles are Normal
We were nearing the bottom of the 7-10 year Real Estate Cycle, but now we are functionally in a recession and that will remain to be the case as supply chains stabilize, etc.

This does not mean that everything is now at 20% discount, nor does it mean that people who need to move will be held hostage in their homes by a slower market.

Granted job and school closures may remove a bit of the pressure to move, but many sellers will likely still want to sell, possibly quicker and at a slight discount.

Brighter Advice:

Figure out how your buying power may have shifted due to your own employment and investment profiles, analyze what's currently on the market, and submit an offer that may erase seller profits, but liberates them from potential losses.

For a seller who wants to sell, this may be the best offer they can expect and a win-win.
The market was already nearing bottom, quite possibly eroding the profits you may have envisioned when purchasing the property. Should you sell, stay put, or rent?

This depends, if you are looking to upgrade and purchase another property in the same or a similar real estate market, I would say SELL.

Why?
The discount you could perceive as a loss, although profit is only theoretical until realized, will likely present itself as a discount on your new acquisition. If you know what you want, and/or have a talented broker helping you weigh your options, decisive action could land you a relatively good deal in a market waiting for certainty.

In short, the sooner you stop being a seller you get to become a buyer post pandemic, during a recession, at the bottom of the market.

How?
Open Houses are a great way for a realtor to get their name out there, for nosey neighbors to take a glimpse at how you live, and for early stage buyers to bolster their online knowledge with real life experiential data.

Open houses are not necessarily excellent tools for selling a home. The ultimate buyer will likely be someone who has researched, analyzed, and discussed your home as a suitable option before even requesting a 1 on 1 appointment.

In this climate, serious buyers will likely become even more serious, and the lookie-lous are likely to stay home.

If your property is occupied, consult with your tenant as to how they feel about appointments or open houses. Ask your tenant if digital staging is possible, and or virtual tours.

One time agent/photographer access may become the new normal. With virtual tours putting the camera lens in prospective buyer's hands, they can control whether or not they deem the property up to snuff from the potty, or couch.

When?

I actually have a potential seller with a tenant leaving August 1. I advised to list asap, and expect no traffic until April 1. I am now revising this to April 20th, the date public schools are deemed closed until, and likely lhe next foreseeable date for a mass information upload.

An investor should be fine with occupied property, and may not need to see how the home "feels," so long as the numbers make sense. Additionally, an investor may be willing to lob a lower offer, that while initially unpalatable, may release the seller from the property into a discounted market as a buyer.

Should we get no action from an investor or cash buyer by June 1, then I suggest we list for rent and for sale. A traditional financed buyer will need 45-60 days to obtain financing under normal circumstances, so having a signed contract by June 1 means we could close on or around August 1 limiting the sellers exposure to tenant vacancy.

Normally summer is the busy season for rentals, but we will see how the class of 2020 fares entering the job market in a pandemic.

Timing is a case-by-case decision made relative to owner priorities and overall decision making factors for the prime pool of qualified buyers.

What?

Expect limited traffic, limited turnout and discounted offers. Adjust your expectations of profit and recalibrate with regards to your monthly carry and your next real estate move whether it is property in a similar market or out of state.

If looking for property out of state, I would have your agent introduce you to a local broker with a strong understanding of product availability and purchasing trends, so that you are not coasting on your own impressions. Some cities will be dealing with more interstate migration than overseas investment, with a whole different list of resulting market conditions.
Summer is normally the busy season for rentals, and rents are normally inflated as a response to the demand. This is why landlord's like for leases to end in the summer. Job insecurity, for existing professionals and new hires alike, may curtail the impetus and possibility of leasing new apartments.

This may mean additional incentives for new construction buildings, but it could also mean your current landlord will not want to let you go and deal with a potential vacancy for an uncertain period of time.

While this doesn't give you leverage to slash your rent by 10-20%, it could get you back to the renegotiation table for a nominal discount, or at very least curtail any price increases that may have been coming your way pre Pandemic.

As far as touring property, I am not sure whether rental brokers will individually be able to afford digital staging and virtual tours. Brokerage companies may need to sponsor this on their behalf as a new cost of doing business.

Either way, the same advice I gave to buyers goes to you, try to get as much information as you can without or at least before touring property.

Personally, I would rather trade 15 emails than do 15 showings to someone who doesn't ultimately rent with me. If your questions are specific to the property, you will ultimately be helping the broker build a dossier to better market their property, so don't feel like your questions are out of line.

Unless of course they are answerable by Google, Yelp, Seamless, Niche.com, or other lifestyle related websites.
So far this year I have had 2 sale closings in the city.

I am currently working on a retail lease and a 2 bed rental in Bed Stuy. I have several listings in the BX for sale now listed with a Bronx specialist.

Pls message me if looking to lease, buy, sell, or are interested in the following:
(No pictures as this is an informational posting not a marketing piece).
1 bed 1 bath Co-Op Melrose, BX $115k 450sf

1 bed 1 bath Loft Condo, Downtown BK $699k, 667sf
(Tenant in Place until August.)

Single Family Williamsbridge, BX $500k, 1916sf
(not yet live)
Some paraphrased notes from Gary Keller's podcast. Some information while directed at RE agents will resonate for all.

1. If you are self employed, trim the fat, limit non-essential expenses as much as possible, we have experienced a monumental shift and things will likely not return to normal. Better to invest in core activities and necessities than squander surplus on speculation.

2. While business activity and social activity may be lower than normal, this does not mean you stop working.

Continue to provide value to those who desire your services, innovate and evolve, those competitors who do not will likely not be your competition when the market stabilizes.

3. Be Kind. To each other, to yourselves. Donate your excess to those in need. Things that you may have been holding on to for too long may be unattainable necessities for those who can't work from home and are financially strapped.

The sharing economy needs to step in while the traditional economy recalibrates.

If you are able to give to those in need, pls remember the elderly, homeless, and hungry, whether that is in the form of a dollar, canned goods, functioning electronics, or clothes in good repair..

Until next check-in
LIVE BRIGHTER!
How can I help you?
Buyers: 150k-15M.
Sellers: 500k-5M.
Renters: 1800-18k per month.

Areas Served.
All Manhattan.
All Brooklyn: accessible by train, 1 fare zones.
Queens: LIC/Astoria, Forest Hills, Jackson Heights
Bronx: accessible by train, 1 fare zones.

Property Types:
Rentals: Doorman, Walkup, Elevator, Loft, Townhouse
Sales: Condo, Coop, Condop, Townhouse/Brownstone
Commercial: Office Leasing, Retail Leasing, Investment Sales