It's July. Full Fledged Summer. Independence Day. Bastille Day. Rosé all day. We've had a heatwave, and we had a last-minute flurry of activity before the new mansion tax went into effect July 1st.

It's still a buyer's market, so I won't go there, again, but I will help you unpack some of the economic indicators presented during the month that just passed.

As for the Dog Days of Summer, this is a Grecian reference to the position of Sirius the Dog Star in the sky around this time of year, coinciding with heat-related illness, etc, attributing this discomfort to the mystical powers of the star.

Whelp, this correlation was artificial. Much like the Q2 sales stats that came out this month. Read on for more.
Oh and for those of you who like the more esoteric bits of the Brighter Report, click here. And those that prefer syndicated links to less arcane/obscure media, click here.

While NYC is definitely a hot, sweaty mess in July, I personally was reminded of much of what makes the city great:
Public Parks (sprinklers)
Governor's Island(ferry, greenspace, al fresco dining)
Ferries and Waterfront in general (although you probably won't ever catch me on a jetski or in a kayak)
A Varied Selection of Relatively Accessible Beaches
#SecretLemonade and #PocketPints

This is the daddy version, so didn't really hit too many rooftop bars. Also got an amazing BabyFiltered Summer Cold, which did wonders for my midsection!

So with that being said, some of the content here is syndicated from last month, still highly relevant, and hopefully a reminder to those of you who were interested and a godsend for those who are but never saw.

And if you're looking to rent, buy, sell, or develop a residential property or lease/purchase office space please reach out.

LIVE BRIGHTER!
Warning: Intensely Graphic Market Snapshot
Don't worry, it's not gory, just graph intensive.

Normally more inventory correlates with fewer sales, but a large part of the inventory was new development units released to the market. And a similarly large portion of closed deals was accelerated by buyers who wanted to save money by avoiding the new mansion tax.
The majority of these properties were in the 2-5M range. In this part of the real estate stratosphere, property is more of a luxury than a necessity, and not simply in terms of stainless steel and building amenities. Being that these buyers are necessarily willing to pay more to have nicer views and fancier everything does not force them to act if prices are deemed too high for their tastes.
The imposition of a hard deadline with a quantifiable loss for that outside of compliance with this date is what pushed those in contract and those in deliberation to close prior to 7/1.
Key TakeawaysMedian
- Sale Price went up 10% largely due to the larger volume of closed transactions in the 2-5M range, this does not mean that properties under 2M went up by 10%.
Average
- Sale Price at $2.4M is a better indicator of the hyperactive performance of the 2-5M tranche due to the Mansion Tax deadline.
DOM
- Again, the artificial but very real deadline of 7/1 Mansion Tax Activation forced people to close 30% quicker than they did in Q1.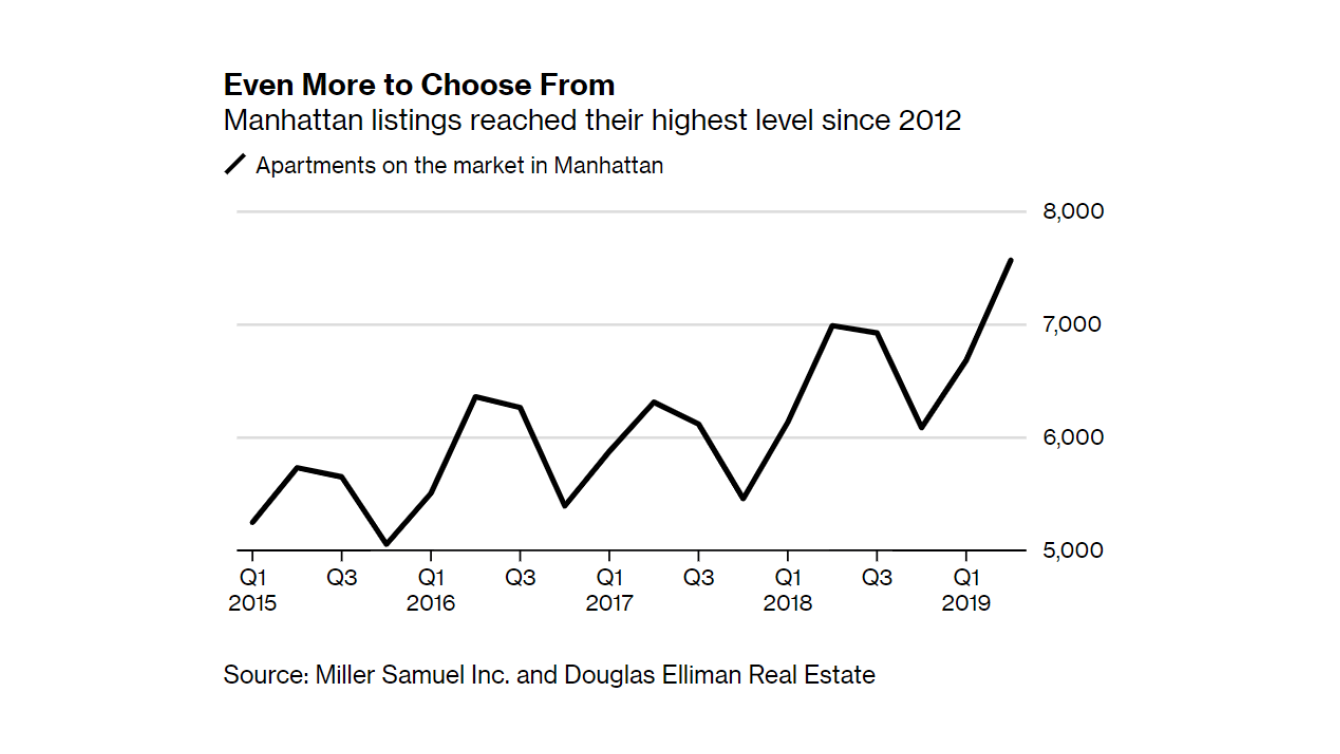 For Sellers
• Average price per sq ft is stable at best
• Most options for manhattan buyer's since 2012
• 39% increase in days on market Y-O-Y will drive continued
price capitulation
.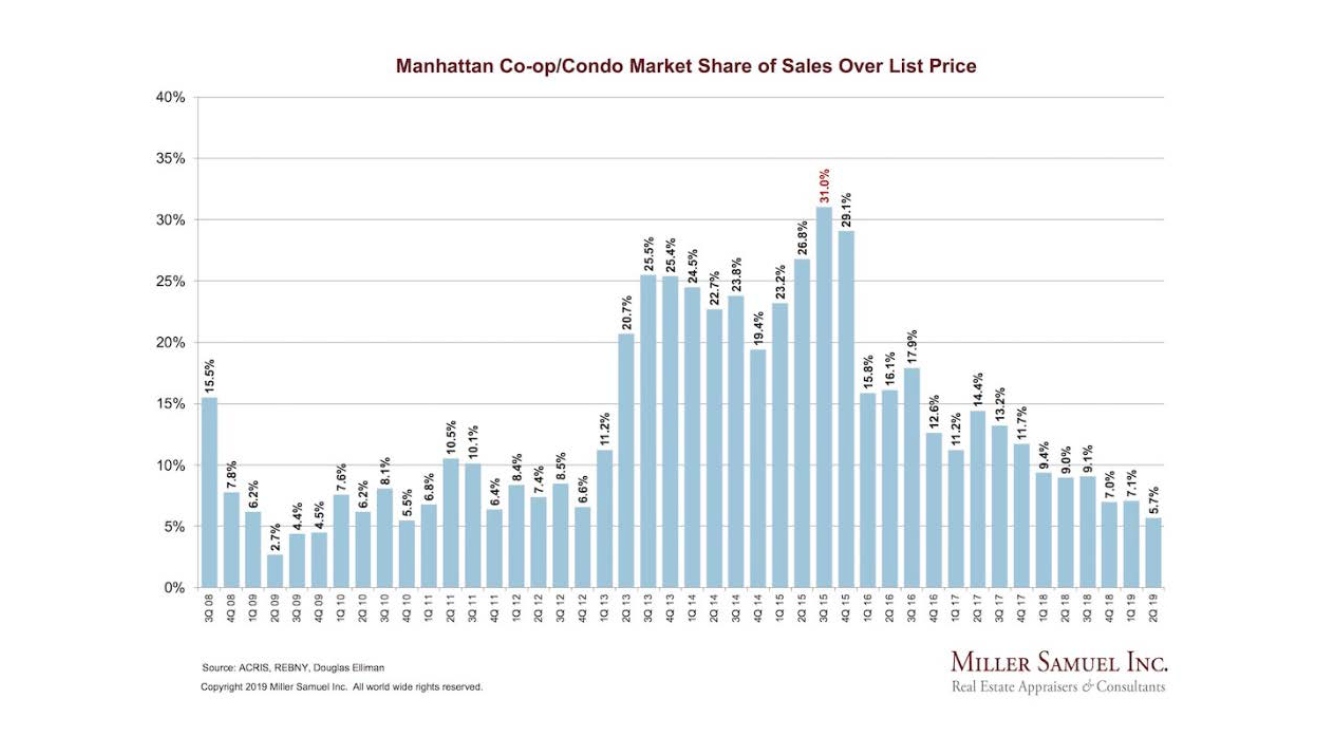 Key Takeaways:
This graph just shows that fewer listings are trading over the asking price.Meaning the vast majority of the market is trading at or below the asking price, indicating that sellers are likely adjusting their prices to max buyer expectations, either at list or a contract.
For Buyers:

• Capitalize on Q2 buzz. News of recent sales will motivate sellers to do deals.
• "Value" deals in 1-1.9M range won't last, those low 2M buyers who missed the Mansion Tax implementation date may descend into your buyer pool
• Unique discount opportunities for unrenovated co-ops market due to a surplus of new construction condo products.
This was good content, and I'm leaving it here
for those of you that missed it.
Well, if you want to buy a true investment property, you could buy a starter home outside of NYC, in an area where salaries are not as high, there isn't a ton of "luxury" rental product, or there is a microeconomy of transient workers, students, or tourists.

Buying Multifamily in the Boroughs Is a Great Option

To stay under 1M you need to be in areas with limited Thai Restaurants, Beer Gardens, Curated Vintage/Consignment stores, and Artisanal Cafes.

A quick search revealed East New York, Brownsville, and Cypress Hills in BK.

But then again, new rental legislation passed in Albany could make potential profit thru y-o-y rent increases less tenable as maintenance costs steadily increase.

The New York Times

Disruptive Country Home

You could buy a house within an hour of the city, rent it on a yearly basis, or flex some design/marketing skill and lease it as a mercenary country house.A place where City Folk can buy some meat, bring some alcohol, and unwind a bit (with Netflix, Spotify, and hopefully a pool). This is my favorite.

I love the idea of renting the apartment I like and can afford in the city, and owning a "country home" that I have access to whenever I want, but realistically will only use a handful of times a year, that I can rent to similar NYCers when they get that thirst for nature, chlorinated pools, and "authentic" farm to table dining in a suburban setting.
You could buy pre-construction as a speculator (ideally in a cheaper market) with a limited supply of like kind, and sell upon completion.

Out-of-State Investment

There are also luxury properties in other cities like Miami and Austin, that are much more affordable, and may even allow you to AirBNB your unit or have it professionally managed and leased.*Setting up next Section.
Natiivo AirBNB powered condos in Miami/Austin
So people travel more on vacation, are less likely to make a long term commitment to a city, enjoy a fairly even quality of "digitally connected" life in multiple locations, have less disposable income due to increased consumerism, AND are completely fine renting a property that is sexy and meets their preferences for modern luxury and convenience. But who will manage my property, what will be the restrictions on short-term sublets?

Enter Natiivo. AirBNB powered condos built to accommodate investor demand for flexible sublet terms, and market demand for luxury accommodations that better suit lifestyles indivisible by 12.

Natiivo is launching In Austin and Miami, while I have been to Austin and KW is based in Austin, I spend more time in Miami, and have access to friends and family pricing for the launch. Please send me a message to learn more, here are some articles and Soundbytes.


"The 48-story tower, with roughly 600 units, will have about 400 condos and 200 Natiivo hotel units, according to a release. Cervera Real Estate was hired to handle sales and marketing of the condo units. The project, designed by Arquitectonica, is expected to open in the spring of 2022. Urban Robot is handling interior design.
Prices start at $300,000."
"A new downtown Miami high-rise being unveiled Tuesday is promising buyers the chance to profit from their luxury units through Airbnb without running afoul of the condo board.
The first Natiivo buildings are planned for Miami and Austin through a partnership between Miami-based real estate company NGD Homesharing and Airbnb. They are slated to open in spring 2022.
"Basically, these are the first buildings built, designed, and licensed for home-sharing," said Harvey Hernandez, CEO of NGD Homesharing."
No Personal Income Tax, tropical weather, luxury housing stock at a discount. Easy Flight to NYC if you have to come back to take a meeting.
What more could you ask for?

After several trips to Miami, 1 closed deal, and a lot of relationship/data mining. I have compiled a shortlist of newly constructed condos that I can introduce you to, including pre-construction projects that could yield a sizeable profit in 3 years.


Obviously, I can't quantify or promise that sizeable return, but when a globally recognized luxury brand provides 50,000sf of amenity space, a shuttle yacht to a private island, and world-class design on a tiny sliver of bayfront land, it becomes a bit more believable than just another cookiecutter glass tower.
BUYERS
In short, it is still a good time to buy, if that is your prerogative, indecision and shifting attitudes towards homeownership are making it easier to purchase a home you like, so long as you are not being unrealistic with expected quality.
Hit me up
and I will guide you to the best possible deal on the market for your budget and search parameters.
RENTERS
Whether you are looking for w/d, d/w convenience, or doorman/gym/roof deck luxury, while the cost of rent is high, it is relatively cheaper than ownership, with more flexibility.

I rent. And barring an extra/unexpected $250k and a sudden interest in learning to drive, I will probably continue to do so.

Being creative in scope can yield new opportunities for investment in personal development, entrepreneurship, and more affordable markets or platforms for fractional ownership.

INVESTORS
On a global/cosmopolitan scale, NYC is still relatively inexpensive for everything the city has to offer. Think London, Paris, Shanghai, Singapore, Dubai, etc.
If your target renter is looking to spend 5-8k a month, you can still find property in Manhattan, BK, and LIC. Think 35+ single or with family would rather pay a premium for a quality product that is luxe but not cookie cutter.
If you are looking to buy a multifamily, live in a unit, and rent out 1-3 to defray/offset your mortgage. Still possible between 1 and 2m.
If you are looking to buy a vacation property or self-managed short-term rentals, this is more complicated.
Contact me
.
Follow me on IG @BRIGHTERBROKER
Look for new updates to the website, and a new holistic approach to the way you as newsletter enthusiasts can interact with and continue to advocate for the BRIGHTER Brand.

UNTIL NEXT TIME.
#LIVEBRIGHTER
How can I help you?
Buyers: 150k-15M.
Sellers:500k-5M.
Renters: 1800-18k per month.

Areas Served.
All Manhattan.
All Brooklyn: accessible by train, 1 fare zones.
Queens: LIC/Astoria, Forest Hills, Jackson Heights
Bronx: accessible by train, 1 fare zones.

Property Types:
Rentals: Doorman, Walkup, Elevator, Loft, Townhouse
Sales: Condo, Coop, Condop, Townhouse/Brownstone
Commercial: Office Leasing, Retail Leasing, Investment Sales